Skip Navigation
Website Accessibility
PRS Wind Through The Trees Dual Flanger Effect Pedal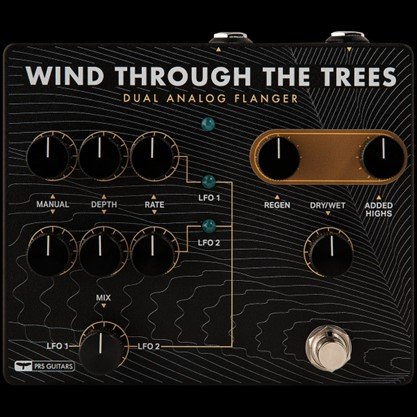 ---
The PRS Wind Through the Trees dual analog flanger pedal is best described as two flangers fighting each other, resulting in a sound reminiscent of the wind whipping through the trees. With Manual, Depth, and Rate controls per flanger as well as global Regeneration and Added Highs, Wind Through the Trees offers nearly endless tonal possibilities. Bottom line, Wind Through the Trees offers hours of fun for any player.
PRS pedals were created to be high-end pieces of audio gear.
Through-Hole Mounted
---
We spent considerable time comparing available electronic components, and through-hole soldering enables us to utilize the best-sounding parts.


True Bypass
---
PRS pedals are true bypass, so you can stay connected to your amp. When they are off, they are out of your signal chain, and the tone of your instrument can be heard without coloration.


Made in the USA
---
PRS Pedals are designed by PRS Guitars in Stevensville, Maryland and proudly made in the USA.


CONTROL PANEL
1. Power in (9V DC)
2. 1/4-inch mono jack input
3. 1/4-inch mono jack output


CONTROL PANEL
4. Effect on/off (true bypass)
5. LFO #1 & LFO #2
a. Manual control
b. Depth control
c. Rate control
6. LFO Fader
7. Wet/Dry Mix
8. Regen Rate
9. Added Highs